Gradings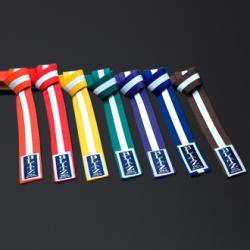 All students of The Horan Shukokai Centre who are licensed are allowed to sit exams to pass thier belts and progress through the Shukokai Karate ranking system. If the student is progressing well in their training they will be invited to participate. If they pass they will receive a certificate, have their license stamped and signed, and be permitted to wear the appropriate belt.
The club holds regular grading events at the different venues where we train. You will be updated with the date of the next grading as soon as it is booked.
Students will only be put forward for exams if it is likely that they will pass. However occasionally students do not meet the criteria and may be required to re sit the exam. However in most cases the student will be awarded a Mon (gateway) grade. The can work towards their grade with some additional help and resit the exam for a discounted fee (£5).
Belt Order:
We use the traditional Kyu Grade System for our ranking. The Kyu Grade System is a difficult system to fulfil, especially for children. Compromising in terms of standards expected is not an option; therefore we have had to re-think the system to make it accessible to everyone, as Shukokai is they way for all. In light of this The Horan Shukokai Centre has re-introduced the "Mon Grading System."
The word "Mon" in this case translates as gate/gateway. This will be seen as the Gateway to the Kyu Grade the candidate is aiming for. To put simply, if a candidate does not achieve the criteria and score enough points to pass a full Kyu Grade they will be awarded with a Mon Grade until they re-sit the exam at a later date and achieve the full Kyu Grade. The Kyu Grade system has been made more difficult to work through; therefore awarding Mon Grades will be commonplace and standard practice.
The guideline for a pass mark across the grading system is 1 point in each area. If students achieve 1 point in each area they will usually pass the Kyu Grade exam, any less and it is likely that they will pass the Mon Grade.
White Belt Red Stripe - 10th Kyu
White BeltYellow Stripe - 9th Kyu
Yellow Belt - 8th Kyu
Orange/White Stripe - 7th Mon
Orange - 7th Kyu
Green/White Stripe - 6th Mon
Green - 6th Kyu
Blue/White Stripe - 5th Mon
Blue - 5th Kyu
Purple/White Stripe - 4th Mon
Purple - 4th Kyu
Brown 1 Tab - 3rd Kyu
Brown 2 Tabs - 2nd Kyu
Brown 3 Tabs - 1st Kyu
Black Belt - 1st Dan (Shodan Ho for under 16yrs)
Fees:
10th, 9th and 8th Kyu - £10
7th Kyu to 2nd Kyu - £15
1st Kyu - £25
1st Dan - £100 (Association Fee) If participant is under 16 years, their fee is only £50 as they will resit when they come of age and pay the remaining amount.
2nd Dan - £150 (Association Fee)
*Belts £3.50 each*