About the Club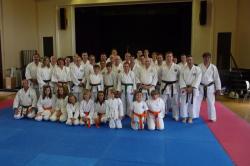 New members are offered their first months training for free - Just tell us you saw this message
The Horan Shukokai Centre started after the Master John Horan (7th Dan) passed away. The club was formed to stand as a lasting tribute his Karate and his teachings. The first venue opened in Grange Park in the place of his old club at the old Grange Park School building next to the city learning centre in 2005. Now there are many classes at several different venues all over Blackpool. For a full list of venues and class times please see the class timestable and locations pages for maps and directions. Children from 5 years are welcome to take park. If you choose to parents are welcome to join in with their children or they can take part in the adults class.
Karate is an opportunity to build fitness, learn self defence, learn about discipline and respect for both yourself and your club mates but most importantly have a bit of fun. There is no joining fee for any of my students whether they are adults or children, the first lesson is always free and don't worry about a uniform as you don't need one for the first few weeks.
All equipment and uniforms can be bought at heavily discounted rates. To maintain the low cost of equipment and uniforms the club often has to subsidise the price to make all essential equipment accessible to everyone.
The club is a member of the United Styles Association who licences our instructors and students and is affiliated to the English Karate Federation. We attend and compete at the UK Open Championships, The USA Open Championships and The English Karate Federation Championships. So if you want to compete you are more than welcome, however no one is forced to do so.
All weekly lessons are only £3 so that it is affordable for everyone.